Angelique Janowski, an aerial hoop artist, warms up before rehearsal for the Apéro Show inside the Baobab Stage in Town Square Las Vegas on Friday, Feb. 26, 2021. (Daniel Clark/The Nevada Independent)
Nevada Reinvented: Cirque Du Soleil dancer launches new stage show during shutdown of Strip performances
Many Nevadans have had to reinvent themselves to make it through the pandemic, changing their career paths at a time of uncertainty. The Nevada Independent is sharing stories of people who are trying something new.
If you are a Nevada business owner or worker whose job has been upended by coronavirus, we would love to feature your story. Send an email to [email protected] for consideration.
***
Two hours before the beginning of her show, Angelique Janowski twirled in a hoop hanging above a small dance stage that paled in size compared to the multi-level venue in which she once performed at the New York-New York casino on the Las Vegas Strip.
Janowski spent more than four years as a dancer for the Cirque du Soleil show "Zumanity," but after months without performances and the announcement of the show's closure in November, she took a chance on her dream by launching a production company, the Visionary Pack Collective and a new cabaret show called the "Apéro Show."
"I think for most other artists, we all dreamed about like, why not me? Why not creating our own show?" Janowski said. "The coronavirus actually put us in front of a situation that we needed to act and … we needed to do something."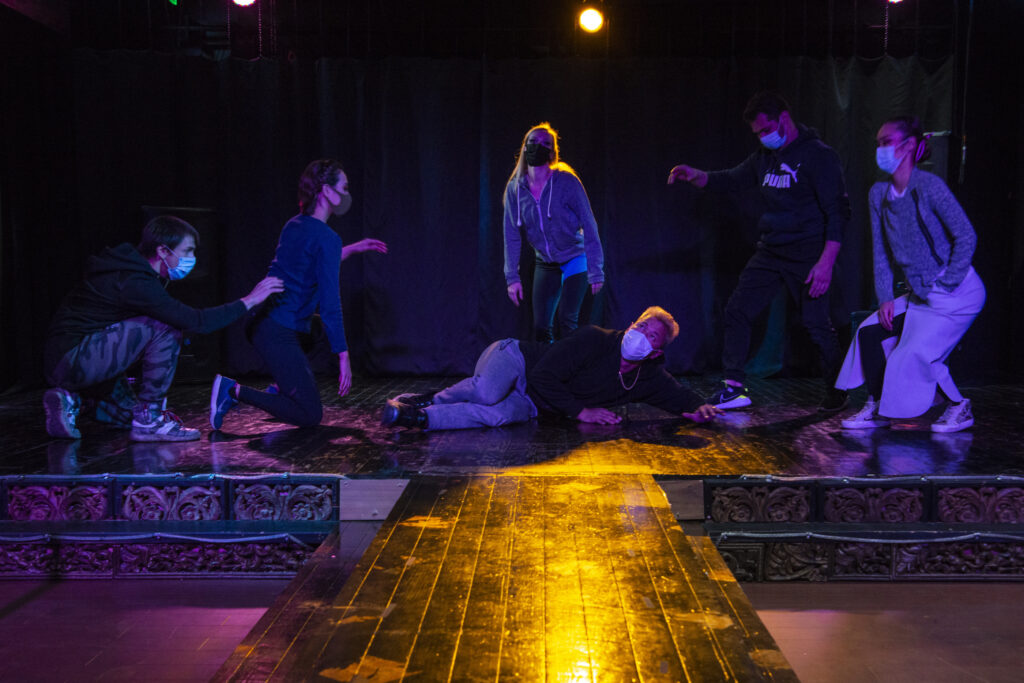 Her new venture is not quite as large as Cirque Du Soleil, which employs more than a thousand artists and hosts five different shows in Las Vegas. The "Apéro Show" features a small, eclectic cast of six people with years of experience, including artists from Russia, Japan and Mongolia who have performed in other Las Vegas shows including "Le Réve," "Absinthe" and "KÁ."
Before coming to Las Vegas, Janowski worked for a variety of artistic companies in France, including Red Bull France, Theatre du Chalet and Disneyland Paris, after she graduated from the International Academy of Dance and National Circus School of France.
With only a couple months separating the closure of "Zumanity" and the launch of her new show, Janowski remained focused on performing arts throughout the pandemic.
"I always wanted to be on stage and kind of combine all my backgrounds together and just express myself," she said.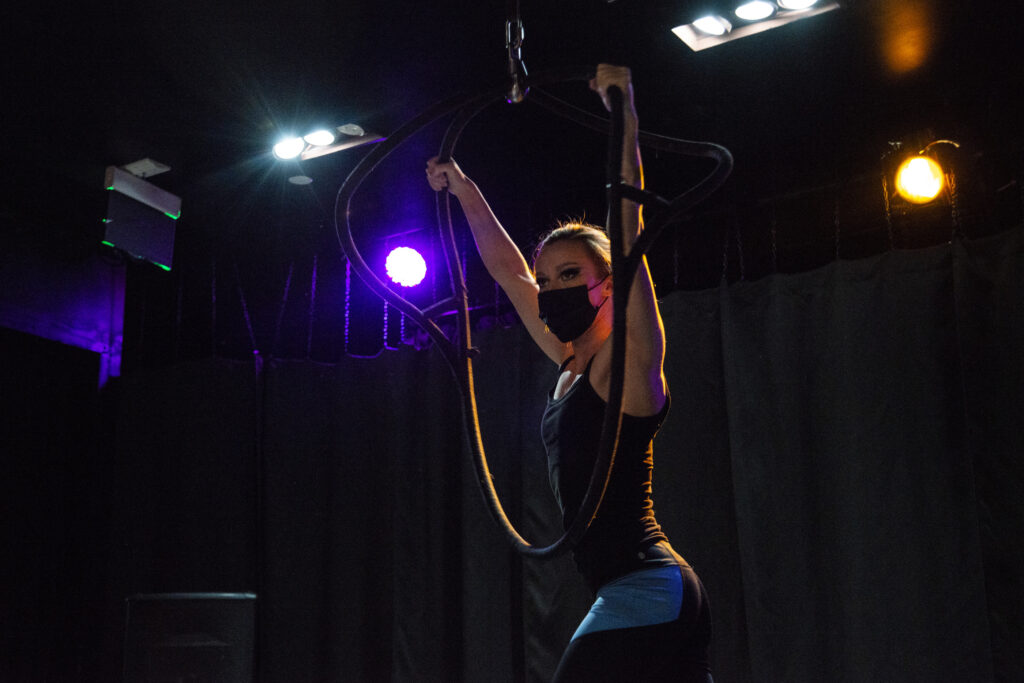 That self-expression from Janowski and the rest of the cast has turned the "Apéro Show" into a story of laughter, relationships and artistry that features aerial acrobatics, contortion and juggling. The artists perform in an intimate setting, as the small dance stage sits several feet away from the front row of the audience and colorful chairs stretch to the back of the studio.
She also said that she was able to use the time that "Zumanity" was not holding performances to tap into her creativity and come up with a new hoops act for the stage. She is an aerial hoops artist in the "Apéro Show."
Building the "Apéro Show" has been a learning process for her because neither she, nor any of the show's other co-founders, have produced a show before. However, the show's other founders have a long history of working in the Las Vegas entertainment industry, including Nicole Dunn, who was the wardrobe and lead designer for "Zumanity."
With the new show launching in the midst of a pandemic, Janowski said the biggest challenge was to keep everybody safe, including performers, staff and guests. And so far, she has taken lots of precautions to ensure that safety.
Janowski said that all of the show's performers get COVID-19 tests frequently and wear masks onstage and backstage. And the venue has had limited capacity through the handful of opening performances so far.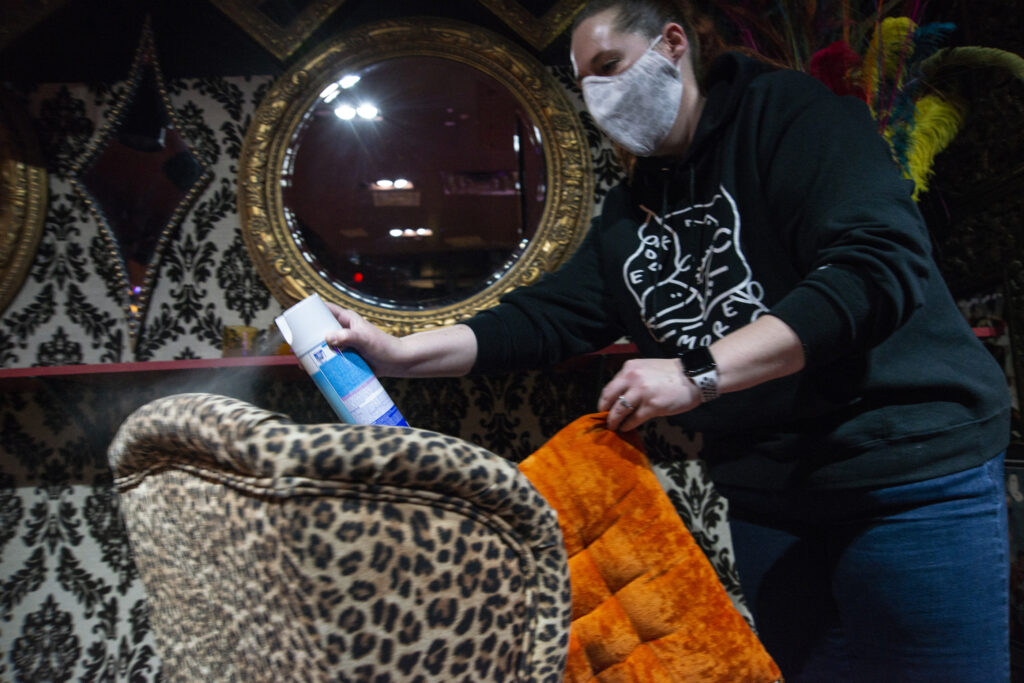 The "Apéro Show" was launched in mid-February with shows for a maximum of 40 guests on Friday, Saturday and Sunday night and is hosted at Town Square in Las Vegas at the Baobab Stage, which is operated by former "Zumanity" dancer Wassa Coulibaly.
Though safety was a primary concern for Janowski, she said it was hard being away from the stage, and launching the "Apéro Show" was an opportunity to give a job back to her and other artists.
"We wanted to give the stage back to the artist, that was the main thing, that we wanted to give the artist the job, the opportunity," Janowski said. "You trained many, many years to do what you're doing. It's so bad that you're just staying at home."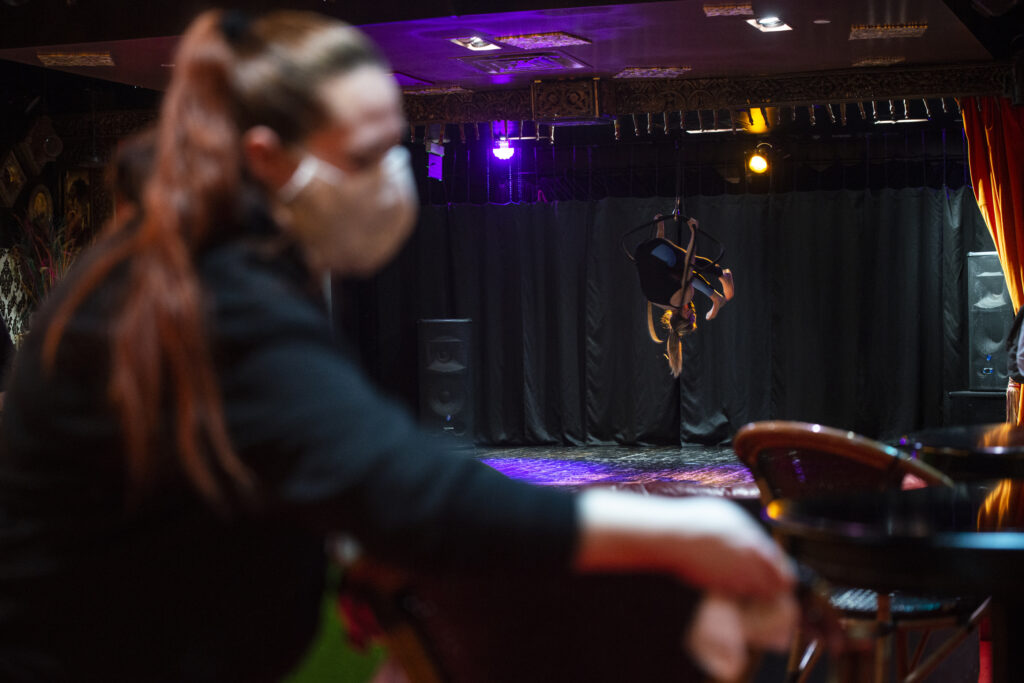 This month, the "Apéro Show" is going to add one more performance per week, and as COVID-19 regulations soften, Janowski hopes to bring in a larger audience. She added that the "Apéro Show" is only the first venture for the Visionary Pack Collective.
"Our goal is to create more shows, to give more jobs to artist, to get to create something bigger, if we can," Janwoski said.
Comment Policy (updated 4/20/2021): Please keep your comments civil. We reserve the right to delete comments or ban users who engage in personal attacks, use an excess of profanity, make verifiably false statements or are otherwise nasty. Comments that contain links must be approved by admin.