Joanna Gamet, owner of Jo's Malasadas Cafe and Bakery on Monday, March 15, 2021. (Jeff Scheid/The Nevada Independent)
Nevada Reinvented: Cafe brings "home" to the desert with Hawaiian malasadas
March 18th, 2021 - 2:00am
Many Nevadans have had to reinvent themselves to make it through the pandemic, changing their career paths at a time of uncertainty. The Nevada Independent is sharing stories of people who are trying something new.
If you are a Nevada business owner or worker whose job has been upended by coronavirus, we would love to feature your story. Send an email to [email protected] for consideration.
***
Joanna Gamet is a registered nurse, a single mom to her 10-year-old daughter and, as of October, an entrepreneur bringing malasadas and other Asian and Hawaiian treats to southwest Las Vegas.
Malasadas are a Portuguese fried dough pastry covered in sugar that were brought to Hawaii in the late 1800s by immigrants looking to work in the sugar and pineapple industries.
As COVID-19 cases were on the rise last March, Gamet realized the sacrifices she made — between the long work hours, stress and lack of sleep — to provide for her daughter. Between her jobs at a rehabilitation center, a hospital and home visits, she worried about staying safe and healthy.
"After working three 12-hour shifts I would still go to my other jobs and they would ask 'why are you doing this to yourself?'— 'Well, I'm a single mom, she'll eventually have to go to college,'" she would reply. "I don't want her to have to work like me. I want to set up a foundation for her to be able to choose the career that she wants without the stress that I have."
Gamet moved to the U.S. from the Philippines at 19 to become a nurse, just as her mom told her to do, but she always wanted to own a business, somewhere she could "flourish and grow." She was considering opening a nail salon for a couple years, but the pandemic made her think "what would sell during the pandemic?"
"Food. People would still eat food," Gamet said. "People want something fresh and different, and that reminds them of home."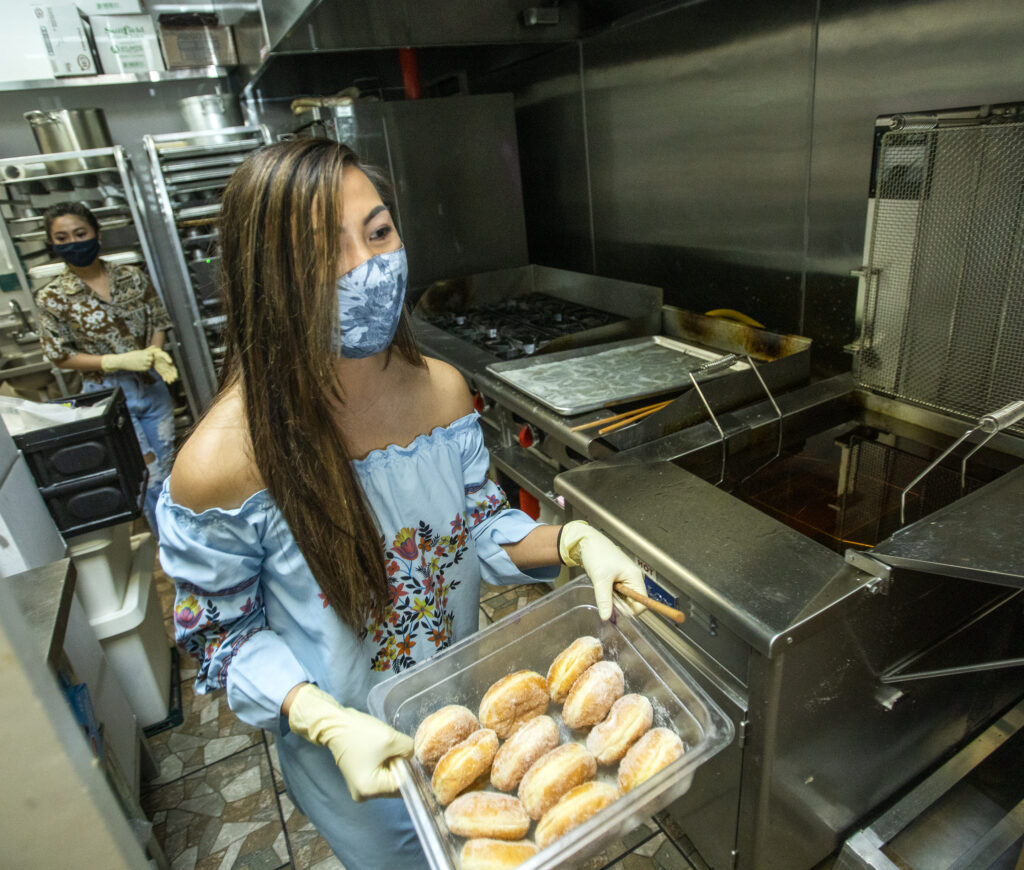 After pitching her idea to an investor friend amid business closures driven by the pandemic, Jo's Malasadas Cafe and Bakery began to sprout. Gamet quit her nursing jobs in September to solely focus on the cafe and opened in October in a strip mall at Flamingo Road and Torrey Pines Drive.
"At the beginning, I thought 'should I do it now during the pandemic or later?'" she said. "I saw that now is the best time to do it, because we can establish our name. And once everything is fully open, people already know us, instead of having to introduce ourselves."
One of the biggest challenges before opening was perfecting the malasada recipe. It took Gamet and her chef three weeks and multiple batches of adjusting the recipe for the dough to "puff" just right.
"I have a cousin who is a chef in Maui, so we talked about the flavors and recipes and we realized that the recipe here in Las Vegas works differently than in Hawaii because of the humidity and the temperature," she said. "The expectation is very high, because people are craving something that tastes like back home but you can't mess it up."
Traditional malasadas are not filled, but the Hawaiian variations are. Jo's Malasadas offers filings made with guava and ube fruit purees as well as specialty fillings such as Bailey's Irish Creme for St. Patrick's Day. The shop usually sells between 200-500 hand-filled malasadas a day, Gamet said, priced at $1.95 each or $1.75 without filling.
The cafe also serves a variety of other pastries, cakes and food to complement the sweet with savory, including Filipino puto flan (a combination of rice cake and custard), tiramisu, Spam musubi (a Hawaiian snack consisting of a slice of grilled Spam on top of rice and wrapped with seaweed), and chicken mami noodle soup (a Filipino dish).
Gamet said that owning a cafe is very different from being a nurse, although still very stressful, and wouldn't have been successful without her co-owner, staff, the power of social media and other small businesses around her that gave support.
"I always give them a shoutout on Instagram, and we help each other, rather than being competitive," she said, referring to the community with the Hawaiian term for extended family. "It's not just me doing the work, it's ohana."
Comment Policy (updated 4/20/2021): Please keep your comments civil. We reserve the right to delete comments or ban users who engage in personal attacks, use an excess of profanity, make verifiably false statements or are otherwise nasty. Comments that contain links must be approved by admin.