Nicki Simon, owner of Baked By Nicki at Hub Coffee Roaster where she rents a kitchen to bake and sell scones on Wednesday, March 24, 2021. (David Calvert/The Nevada Independent)
Nevada Reinvented: Baking up new opportunities with scones in Reno
March 25th, 2021 - 2:00am
Many Nevadans have had to reinvent themselves to make it through the pandemic, changing their career paths at a time of uncertainty. The Nevada Independent is sharing stories of people who are trying something new.
If you are a Nevada business owner or worker whose job has been upended by coronavirus, we would love to feature your story. Send an email to [email protected] for consideration.
***
Unemployed and with nothing to do during the governor's stay-at-home order last spring, Nicki Simon began to bake to pass the time.
Little did she know that a few months later, her scones would be the talk of the town in Reno — and her full-time job.
Before the pandemic, Simon, 25, would work half the year and travel the other half. She had recently returned home from traveling through South America and had a customer service job lined up starting in April, but COVID-19 changed those plans.
The lifelong hobby-baker soon spent her days baking for her friends and family until her sister suggested posting her baked goods on social media and taking orders to earn some income after having applied for unemployment assistance but not receiving any benefits.
"I made scones and cookies and brownies and banana bread and lemon bars or anything that anyone wanted, really," Simon said. "The scones were something that was unique and different so I decided that I wanted to just narrow down to one specialty, and just stuck with a scone and started trying out different flavors."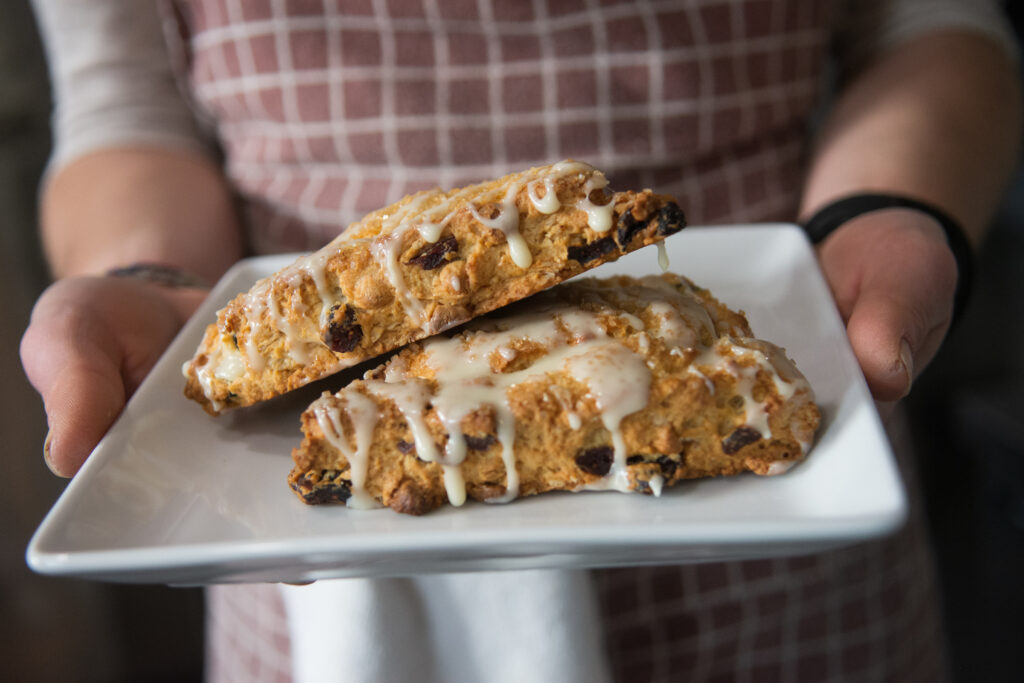 Baked by Nicki was born. Although the pandemic interrupted her lifestyle, she said it gave her the "opportunity to learn something entirely new" — starting and running a business.
Simon experimented with different flavors including peaches and cream, lemon poppy seed, spiced chai, chocolate chip, and seasonal flavors, but her classic mixed berries scone remained as the top seller.
For months she cooked out of her home kitchen, which she shares with four roommates. Through the summer she received more and more orders and realized she had to decide whether she would commit to the baking business or find a new job.
"It's really been the most unexpected thing ever. I never planned or thought I would be running a business," Simon said. "At the beginning of COVID when I wasn't working or wasn't able to plan the next trip, I was feeling pretty lost and really searching for some kind of purpose. Starting this business, definitely gave me that."
By October, she had obtained her business license and permits and approached the owner of Hub Coffee Roasters, where she had worked through college, with samples of her scones. She proposed renting the kitchen and selling the scones in its area locations, and the partnership began.
For the most part, Baked by Nicki has been solely run by Simon, including waking up at 4:30 every morning to bake, keeping track of orders, managing social media communications and delivering orders.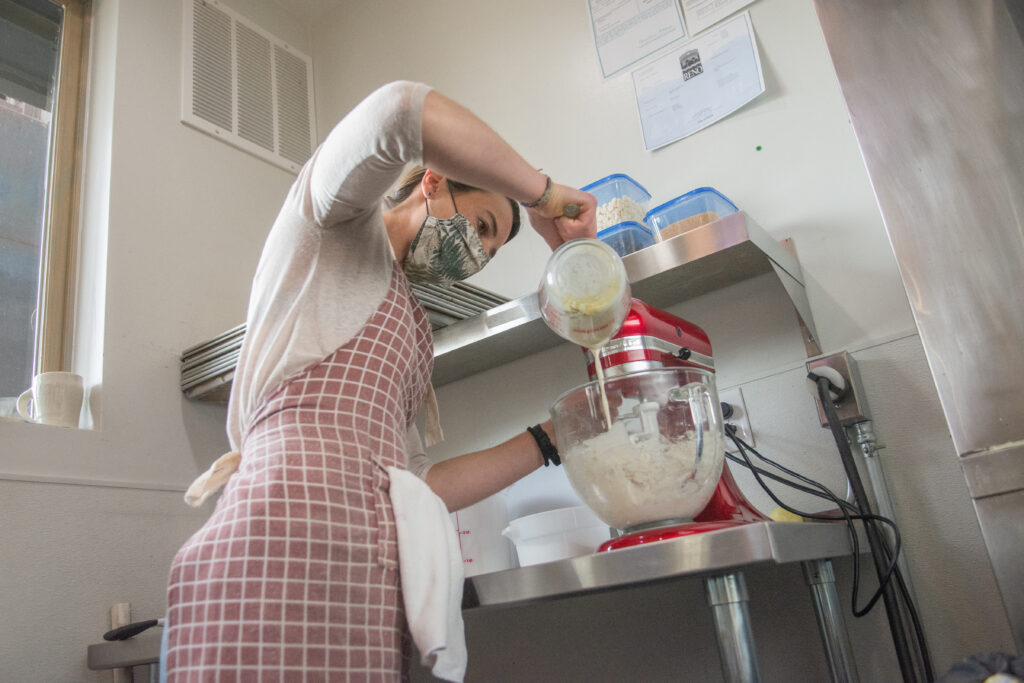 Recently, a friend started helping her manage social media. Her sister, who is a photographer, helps her with content creation, and she hired her mom to help with the deliveries. Her dad, who is also an entrepreneur, has guided her through every decision and question, she said, including filing taxes and how to build professional relationships.
"Everyone around me has been super-supportive which has been really amazing," she said. "It's a lot to go from knowing nothing about running a business to doing everything."
Simon said she was lucky that the start-up costs for her business were relatively low, and that she did not have high expectations to make a profit right off the bat. But one of her biggest challenges has been setting boundaries between work and life, and declining orders when she is fully booked.
"I have had much more success and financial stability through this than I anticipated and part of that could be because I have been afraid to turn down business and working 10-hour days regularly," she said. "There's a fine line between deciding I could work nonstop every day and obviously would make more money, but at what point does that become more detrimental to my health and my life?"
Simon continues to fill private orders, including for events such as weddings, along with her coffee shop accounts. Beside two of the Hub Coffee Roasters' locations in Reno, she provides scones for a coffee shop in California; the owner drives to Reno every week to pick up the scones.
"I'm looking forward to just continuing with things as they are and see how this grows and where it takes me. I'm very torn because I miss traveling a lot… in the future I want to be able to take good chunks of time off and be able to travel," she said. "It's hard to envision that while maintaining a business, whether or not I have employees. But at least for now, I'm happy that I am able to continue doing this and making people happy."
Comment Policy (updated 4/20/2021): Please keep your comments civil. We reserve the right to delete comments or ban users who engage in personal attacks, use an excess of profanity, make verifiably false statements or are otherwise nasty. Comments that contain links must be approved by admin.