The 2020 Nevada primary will only be mail in ballots because of the coronavirus outbreak. (Jeff Scheid/The Nevada Independent)
The Indy Explains: What happens to my ballot after I mail it in?
In the wake of COVID-19, Nevada moved to a mostly mail-in primary election — a move that drew ire from some who raised concerns that sending absentee ballots to inactive voters would create opportunities for voter fraud and prompted confusion among others about how the new process would work.
Designed to reduce the exposure of poll workers and voters to the coronavirus, the mail-in primary is the first in the state's history. Officials have carried out several awareness initiatives in recent weeks, including dedicating a website and hosting virtual town halls about the new process.
The responsibility of the election falls mainly on Nevada's 17 counties, which are responsible for tallying and verifying the votes and declaring official results. Because of this, the instructions and processes may be slightly different between counties, though the state ensures counties are following electoral laws and procedures.
Counties decided whether to use paper ballots exclusively or to use electronic election equipment. Only Washoe County will allow voters to use voting machines on Election Day.
From filling out the ovals to the declaration of official results 10 days after the election, here's a review of the processes involved in ensuring a fair and accurate election.
Filling out your ballot
Voters should follow the instructions included with their ballot, including these basic instructions:
Use a black or blue ink pen. Do not use a felt tip pen.
Completely fill in the oval to the right of each of your ballot choices for each contest.
Select one choice per contest. Contests with more than one vote will not be counted, but any correctly marked contests on a ballot will be counted.
If a mistake is made or a vote needs to be changed, cross out the name of the candidate or question you do not wish to vote for and completely fill in the oval to the right of the candidate or question you do want to vote for. Do not use correction fluid or tape.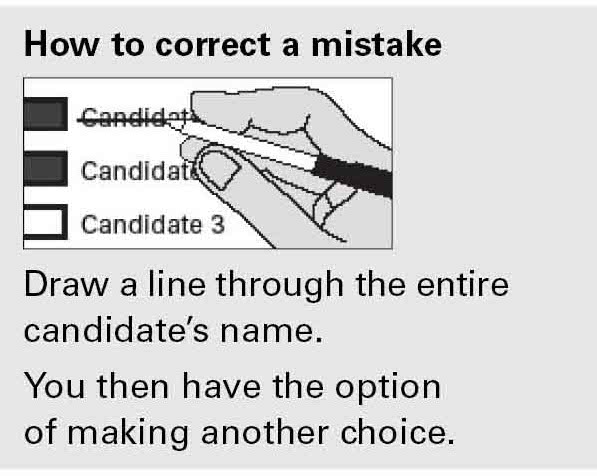 Not all available questions on the ballot need to be filled in for the ballot to be counted. Choosing not to vote in some contests will not invalidate your ballot.
Once the ballot is filled out, it needs to be placed in the security sleeve and then put in the designated return envelope, which needs to be signed to be counted.
Return envelopes can only carry one ballot per envelope, otherwise, all ballots in the return envelope will be invalidated and not counted.
The ballot must be postmarked by Election Day, June 9, and received by the county's election department by 5 p.m., seven days after Election Day. The postage is usually pre-paid for mail-in ballots.
Anyone with questions about filling out the ballot or who has other issues, such as a damaged or lost ballot, should call their county election officials.
In-person voting options
While the general preference is that ballots be submitted by mail, there are in-person polling locations in each county. As of June 5, early voters have sent in 308,721 of the 1,829,050 ballots mailed out, and 1,092 ballots have been cast in person. On Election Day, all in-person locations will be open from 7 a.m. until 7 p.m. for ballot drop-off.
These locations will also provide paper provisional mail ballots for Nevadans who registered to vote online between May 22 and June 4 or are registering the same day they are voting, a new policy enacted through AB345 of the 2019 session. Provisional ballots can only be counted once officials verify that the voter was qualified to cast a ballot in the current election, has not cast multiple ballots in the same election and has shown acceptable identification.
Voters will fill out these ballots on-site and will not be allowed to leave the building with them. Acceptable forms of identification include an unexpired Nevada driver's license, an unexpired Nevada State Identification Card or a Nevada DMV temporary "Interim Document."
For all of these forms, the listed residential address must match the address on the voter registration. If the address does not match, voters must provide proof of current residency. The Nevada DMV website lists what documents are accepted as proof of residency.
In Washoe County alone, voters will also have the option to use voting machines, and the county is taking several precautions to try and make those machines safer to use.
Voters are allowed into the intake station one at a time, and after they vote, the station will be fully disinfected before the next voter has access. To vote in-person, voters are also required to wear masks and have their temperatures taken.
For all other counties, polling locations are being recommended for use only for people who need to take advantage of same-day voter registration and voters with disabilities. Clark County and Nye County both have multiple polling locations.
Election Day polling and drop-off locations:
Carson City: Carson City Clerk's Office, 885 E Musser St, Suite 1025, Carson City
Churchill: Churchill Clerk's Office, 155 N Taylor St, Suite 110, Fallon
Clark: Details here
Douglas: Douglas Historic Courthouse, 1616 8th St, Minden
Elko: Elko County Clerk's Office, 550 Court St, Elko
Esmeralda: Esmeralda County Courthouse, 233 Crook Ave, Goldfield
Eureka: Eureka County Courthouse, 10 S Main St, Eureka
Humboldt: Humboldt County Courthouse, 50 W 5th St, Winnemucca
Lander: Lander Clerk's Office, 50 State route 305, Battle Mountain
Lincoln: Lincoln County Courthouse, Clerk's Office, 181 Main St, Pioche
Lyon: Lyon County Clerk's Treasurer's Office, 27 S. Main St, Yerington
Mineral: Mineral Clerk's Office, 105 S A St, Suite 1, Hawthorne
Nye: Pahrump/Government Complex, 1520 E Basin Ave, Pahrump

or

Tonopah/ Nye County Courthouse, 101 Radar Rd
Pershing: Pershing Clerk's Office, 398 Main St, Lovelock
Storey: Storey County Clerk's Office, 26 S B St, Virginia City
Washoe: Washoe Registrar of Voters County Complex, 1001 E 9th St, Reno
White Pine: White Pine Clerk's Office, 801 Clark St, Suite 4, Ely
These locations are also listed on the secretary of state website. However, the Elko polling location will be at the county clerk's office, rather than the library as is listed.
Signature verification and ballot security
The move to mail-in ballots for the election drew largely partisan fears surrounding the potential for voter fraud and compromised election results.
Officials are taking strict measures to prevent that.
All counties have similar transportation security procedures. For example, in Clark ballots submitted at drop-off locations are put into boxes secured with two master locks and a security seal and transported to the counting center by two election staff members. After the ballot boxes arrive at the counting center, officials inspect the locks and seals to see if they've been removed or opened.
They also ensure the serial numbers on the security seal match the serial numbers on the seal certificate, which staff at drop-off locations sign and insert into the box when sealing it for transport and sign the certificate to verify accuracy.
Each ballot contains two identification numbers that are unique to a voter. The envelope containing the ballot also includes a signature panel which a voter signs and an official reviews. If there is a concern about the validity of the signature or another problem, a second person is called in to review the ballot.
The unique identification numbers mean that if someone receives and returns two ballots because of an address change or another mistake, officials can flag the issue, notify the secretary of state and follow up with the voter.
A minimum of two people are required to be present when processing ballots, and there are sign-in sheets for those working with the ballots. There are also two keys for the locations where ballots are stored, and the keys are kept separate.
Counties have instructed people to reach out if they receive a ballot incorrectly or return ballots through the USPS by writing "Return to Sender — Not a resident." The postage on these returned ballots is pre-paid.
Officials will not process a ballot if they cannot verify the signature on the return ballot.
"Those who would try to return a ballot with a falsified signature would be breaking the law and we would not process the ballot if the signature does not match," Joe Gloria, the Clark County registrar of voters, warned in an email to The Nevada Independent on Wednesday.
Counting and verifying ballots
Each county is responsible for counting its own votes and appoints members to a bipartisan counting board to oversee the counting process. The state's only role in the ballot counting process is to ensure that individual counties follow all relevant regulations, laws, policies and procedures.
Clark County has been processing ballots since May. Election Department staff sort the mail and identify ballots that do not have signatures. Then, staff process and scan information into voter registration software where they track ballot status, vote history and check signatures on returned ballots against signatures in the registration database.
Once signatures are checked, the ballots move to the counting board, where rejected signatures are reviewed again to try to match the return envelope signature with all the signatures in Clark County's database. The counting board then proofs batches and separates the ballots to be tabulated. Members of the public can observe the counting if they wish and can contact the county clerk or registrar to find the location and time of the counting.
Washoe County election staff began opening ballots Wednesday and are now scanning them in to start the tally process. They had opened about 10,000 ballots as of Thursday.
As of Friday morning, Clark County has received and begun processing more than 184,000 ballots. In Washoe County, 61,847 voters cast a ballot and 1,222 of those votes were in person.
According to Gloria, statutorily, Clark County is allowed to begin placing ballots into the tabulation system on the fifth day before the election. They began counting ballots on Saturday, June 6 and will count through June 16, which is the last day the county can receive ballots postmarked by Election Day to be counted. Washoe County begins tabulating ballots four days before the election.
All paper ballots will be counted using digital scanners. These scanners and other voting equipment are tested and audited by the county before and after each election — a process the public can view — and undergo independent testing by the Nevada Gaming Control Board, which also tests gambling equipment in the state to ensure machines are accurate and functioning properly.
Ballots with votes for any race that the scanner is unable to identify are examined by an adjudication or duplication team, which are overseen by the counting board, to verify the vote. In Washoe County, an independent board will audit the voter-verified paper audit trail — the paper slip that prints out after voters submit their ballots on voting machines — to ensure those are accurate as well.
The county must finish the counting and verification process, known as canvassing, by June 19. In those 10 days, all ballots must be counted, provisional ballots must be added if approved and the official results must be presented to county commissioners. Although there is a formal state certification process for general elections, there is none for a primary election.
Results
On Election Night, voters may stay up and watch the results trickle in, and candidates may kick off victory parties or politely congratulate the winner, but results aren't official until they have been canvassed.
As polling and drop-off locations close on Election Day, each site brings the ballots to the election center, where the ballots will be counted along with early voting and mail ballots. Votes in state and federal elections can only be counted after the secretary of state announces that all voting across the state has ended.
After polls close at 7 p.m. on Election Night, counties will begin to update and report unofficial voting results. The state expects initial results to become available at 8:30 p.m., and results will continue to be published through midnight as they come in.
In Clark County, unofficial results will be accessible starting on election night through the election department's website and on Clark County Television (CCTV) Channel 4, which can also be streamed online. Results for Washoe County will be available on the registrar of voter's website.
Statewide election results are viewable online as well. Results for all elections will be available through the state website as well as voter turnout statistics statewide and by county.
County officials will continue counting after Election Night as they receive ballots postmarked by June 9. Starting Thursday, June 11 at 9 a.m., election results will be updated daily. Final results will not be known until between seven and 10 days after the election, and the official results will be announced on June 19.
Reporting of results will be slower than in previous years not only because of the mail-in process but because of same-day voter registration.
The delay will stem from the need for each county to upload its voter registration database nightly to the secretary of state's office, which will then check to ensure a voter is not registered in another jurisdiction or has cast a ballot somewhere else.
The secretary of state's office did note that it is expecting fewer same-day registrants than would be expected under normal circumstances. This is because same-day registrants have to vote in person, and physical polling locations are limited this election.
Comment Policy (updated 4/20/2021): Please keep your comments civil. We reserve the right to delete comments or ban users who engage in personal attacks, use an excess of profanity, make verifiably false statements or are otherwise nasty. Comments that contain links must be approved by admin.